GuatemalaMamas Fundraiser
My most recent experience abroad was in Guatemala where I was completing research for my doctoral program and volunteering at a maternal health clinic, Casa Materna. This clinic has a simple vision: no woman should die in the act of giving life.  The Huehuetenango province of Guatemala has especially high rates of infant and maternal mortality. For every 1,500 pregnant women in this region, nearly 30 die in childbirth. Indigenous women in the rural communities of the Huehuetenango province give birth at home with the assistance of a comadrona –a community midwife – and if any complications occur during the birth, the women must make the long dirt-road journey through the mountains to the nearest hospital, which is hours away. Thousands of women bleed to death each year making this journey to the hospital to give birth. Casa Materna provides a simple but much-needed solution to this devastating problem by doing community outreach to train health care volunteers to prevent and identify high-risk pregnancies and by providing a free place for high-risk mothers to stay next to the hospital in the days leading up to the birth to ensure a safe delivery.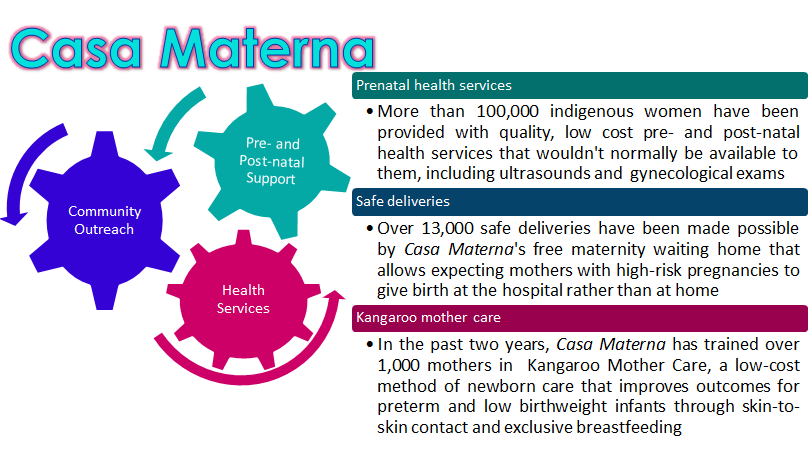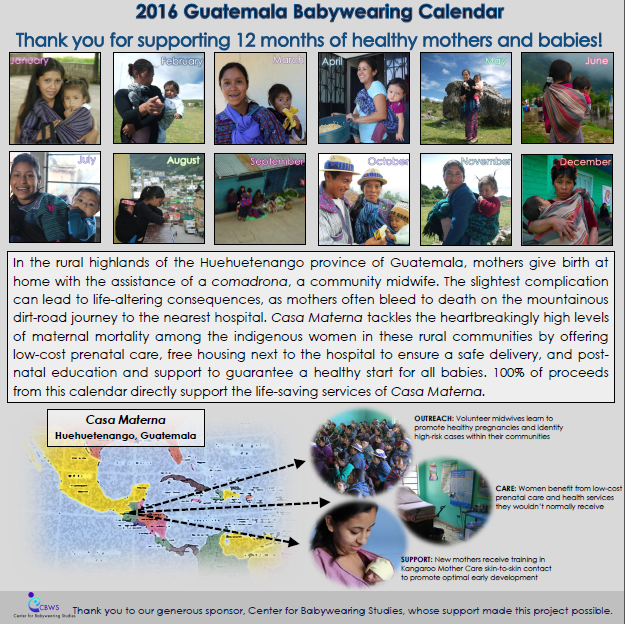 To purchase a calendar, please donate $20 (+$5.95 for shipping) by CLICKING HERE! I will contact you as soon as the donation is received to get your shipping address. If you live in the San Diego (or Ukiah) area and would prefer to not pay the shipping cost, I can arrange to deliver the calendar to you. I will also have some calendars available at local businesses once they are printed. Stay tuned!
Don't hesitate to contact me with any questions or comments at guatemalamamas@gmail.com or 707-391-7477!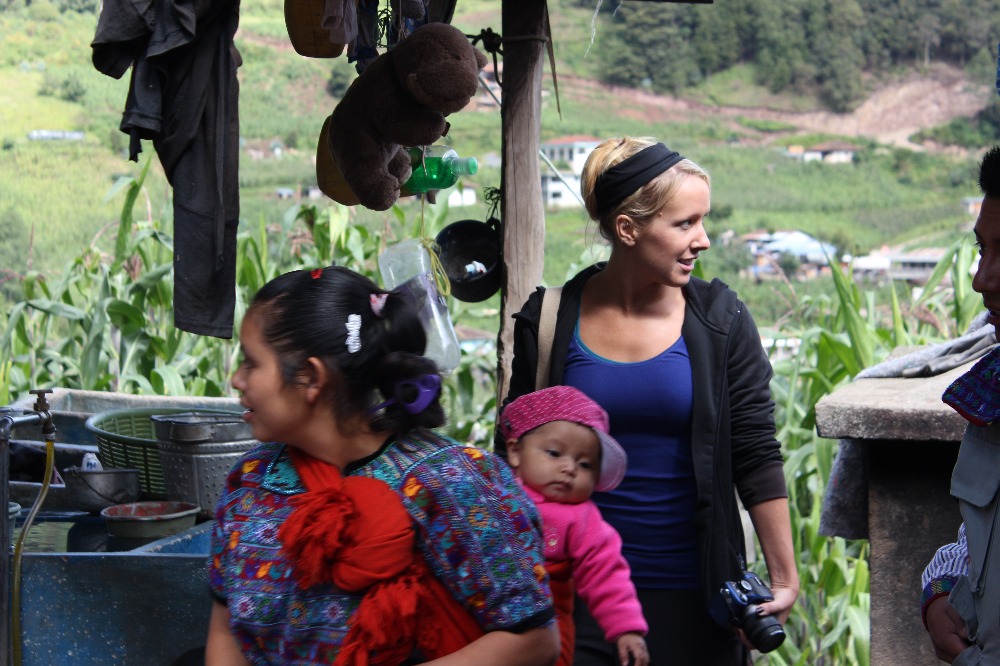 HOW WILL THE PROCEEDS FROM THIS CALENDAR BE USED?
100% of net proceeds from your purchase of the 2016 Guatemala Babywearing Calendar will go directly to Casa Materna.  Casa Materna relies exclusively on private donors to sustain its services. During times of low funding, Casa Materna has been forced to shut its doors, leaving many expectant mothers without the services they need for healthy pregnancies and births. The Casa Materna coordinator told me that there was a time over Christmas when they had to shut their doors, and women would come and wait outside, sleeping on the benches on the porch for days on end, hoping for the doors to reopen.As a volunteer with Casa Materna, I was eager to help with existing projects and start implementing new programs to improve infant care. However, I was faced with the immediate barrier of lack of funds. I had proposed simple ways that I could potentially contribute as a volunteer, such as designing educational materials that explained skin-to-skin newborn care or giving a training to promote breastfeeding in one of the communities served by Casa Materna. These ideas were deemed impossible, as the funds to pay for gas to drive to the communities or to pay to print materials – costs which were next to nothing by U.S. standards – were simply unavailable. Seeing both the great need of the women and their families in the communities and the great potential of the Casa Materna staff and volunteers, this lack of funding to cover the most basic expenses was frustrating.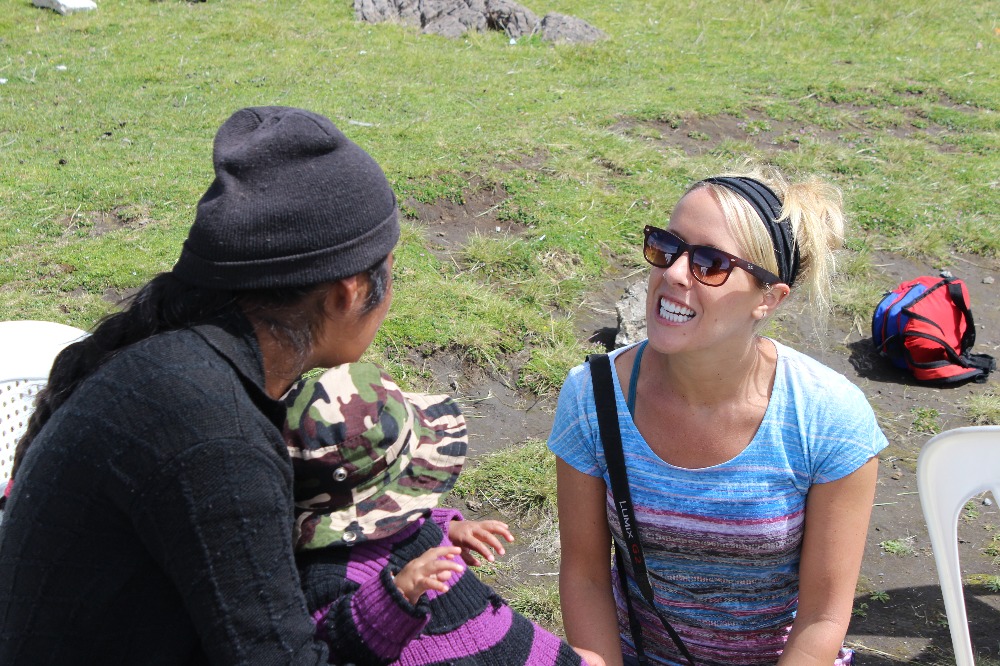 WHAT IS THE FUNDRAISING GOAL?
The goal of this project is to raise $10,000 by February. The money will be used immediately by Casa Materna to sustain their existing services and to initiate a wider-reaching skin-to-skin newborn care training and community outreach program. I will be returning to Casa Materna to help with the implementation of this project during the summer of 2016.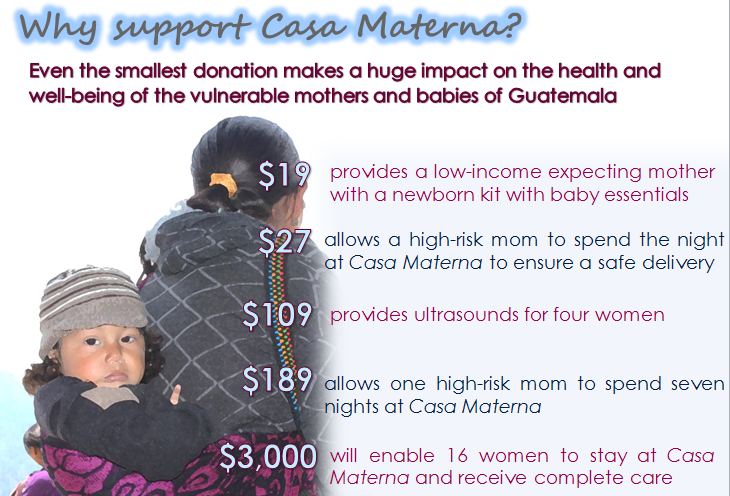 THE FAMILIES OF GUATEMALA APPRECIATE YOUR GENEROUS SUPPORT OF THIS PROJECT!